Community Bank Maldon & District is proud to be the major sponsor of this year's Maldon Photography Competition and the 2021 Theme: 'TAPESTRY OF TOWNS'
 The thrust of this theme invites photographers of all ages in three groups; Professional, Amateur and Junior to capture what it means to live in, belong to, come from, journey through, be a part of and feel connected to the community we choose to live in.
We encourage images that are across all photographic genres including but not limited to portrait, landscape, architectural, documentary, still life, photojournalism, fine art, nature, sports, and editorial.
We are looking for creative, individual expressions of the meaningful ways in which community through township weaves us together through observation, engagement and participation. The photographer will find ways to communicate that are contemporary, perhaps surprising, personal, emotional, innovative, arresting, provocative, curious, humorous, courageous or simply seeking beauty.
Towns are both country and urban so this theme spreads across this country from coast to coast.
What weaves a town together?
Ready! Set! Shoot!
We look forward to finding the best of the best and encourage you to spread the news that the Maldon Photography Competition 2021 is underway. All information about how to enter, including our terms and conditions, can be found on their website at www.maldonphotographycompetition.com.au
---
$3.1 million over 20 years since opening in 1999 has been invested back into our communities and we couldn't be prouder!
We have funded over 175 community groups in the communities we serve, through our grants and sponsorship programs. Arts, music and film festivals, community buses, respite homes, new playgrounds, driver training for L-plate drivers, as well as solar panels and water tanks are just some the projects funded by the Maldon & District Community Bank.
More than $100,000 has gone to local emergency services to purchase new fire engines, forward command vehicles, upgrades to their facilities, defibrillators and training their volunteers. Local sporting clubs benefit from the bank's presence, receiving funding so they can stage tournaments, kit out players in new uniforms and upgrade ageing facilities. The region's preschools, primary and secondary schools receive much needed funding for innovative programs and resources.
Here's just a snapshot of some of the projects and programs funded by the Maldon & District Community Bank:
Banking on safer drivers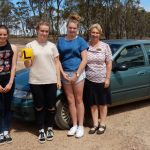 The Maldon & District Community Bank has contributed over $400,000 since 2003 to run a hands-on driver training program.  This funding supports learner drivers to participate in a tailored 5-day intensive program.  The participants drive in a group of three, with a qualified instructor, in a range of different environments and traffic conditions, including un-sealed country roads, highway and city driving, as well as defensive driving.
"We are so incredibly proud of reaching the feat of over 400 graduates. We established this program in 2003 after a series of accidents and near misses involving young drivers in our region," said Branch Manager Adam Balzan.
"The program equips learner drivers with skills and exposure to a variety of driving experiences; to ensure their safety and the safety of everyone on the roads.  This flagship course for Maldon & District Community Bank is just one of the ways we support our community, and in particular our youth."
The course is highly valued by the participants and their parents and carers. One of our graduates Jasmine explained the benefits of participating in the five-day course:
"I want more kids to do the course. I wasn't that interested in the course at first, it was Mum that wanted me to do it.  I just wanted to hang out with my friends, but I actually made two new friends by doing the course.The course was the best thing. I thought I was a good driver, with over 90 hours in my log book, but I learnt new skills and refined my driving."
Contact the Maldon Branch on 5475 1747 to find out more about the program. Register your interest by completing this form: Application form – Learner Driver Training Program (2020-21) MDCB and returning the form to one of our branches in Maldon, Dunolly or Newstead; or via email: maldonmailbox@bendigoadelaide.com.au. 
There is a charge of $150 per participant, and graduates receive a reward of a $50 bank account with the Maldon & District Community Bank when they complete the course. If you already have an account with the Community Bank, we'll add $50 to your balance as your reward. 
Community Stories – Short Film Project
As part of our 2019 20th birthday celebration as well hitting an incredible milestone of investing $3million back to our communities, the board commissioned a series of short films to tell the stories of the people behind some of the amazing projects happening as part of our $150K 20th birthday grant program .
To produce the films, they engaged local creative team Independent Creatives, Newstead's very own agency, who specialise in helping not-for-profit and purpose-led organisations with their communications, branding and messaging.
Simon, who directed the films said, "We've been really inspired by the dedicated people who run these projects. Their hard work has a positive impact that spreads through the whole community and that's the idea behind the films. The message is keep your money local and you'll see the benefit on your doorstep!"
You can see each film below, as well on the Maldon & District Community Bank Facebook page.
Enjoy!
Dunolly Community Garden and The Dunolly Kindergarten joined forces to find the the perfect spot to grow their fruit and veg. The kids love it, the gardeners love it and the community loves it!

Maldon Fire Brigade has been keeping our community safe for 150 years and we'd like to say thank you to volunteers across the generations! 

Nalderun Aboriginal Services – Led by our local Aboriginal Elders, Nalderun educates and supports our community.

Castlemaine Secondary College –  Music Support Group is a bunch of committed parents who help music staff to put on events and extend the range of activities and opportunities for the students. Helping with student engagement and confidence.
Maldon & District Community Bank Tertiary Scholarship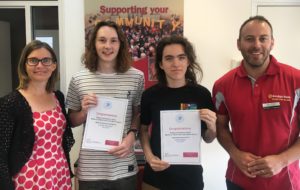 Two local tertiary students have received a helping hand thanks to scholarships from the Maldon & District Community Bank branch.
Ty Elliott-Thompson from Dunolly and Maldon's Cedar Blazely were presented with the scholarships at a special presentation at the Maldon Bank Branch.
The scholarships provide support for local students undertaking university or TAFE studies.  The recipients are selected on the basis of personal qualities, challenges to study and need.
The Maldon & District Community Bank branch is delighted to assist young community members with their tertiary studies.  The annual scholarship program was launched in 2018.  This year the Community Bank added an additional scholarship in response to the demand for support.
Ty Elliott-Thompson was awarded the major scholarship of $2,000. Ty has followed his passion for acting and is currently in his second-year studying Acting for Stage and Screen at Ballarat's Federation University Arts Academy.
The $1,000 scholarship was awarded to Maldon's Cedar Blazely.  The funding will assist Cedar with the costs of living away in Melbourne for his Certificate 3 Science course at RMIT.
"Ty and Cedar are very worthy recipients of the scholarships. They were chosen from an outstanding field of applicants – it was a tough decision but these two definitely stood out. The scholarships will help them overcome some of the obstacles of studying away from home," said Maldon & District Community Bank branch Chairman Ross Egleton.
MASARG Respite House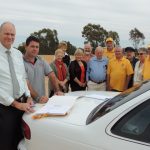 One of our largest single sponsorship to date was for the Mount Alexander Support and Respite Group (MASARG). Mount Alexander Shire is the only local government area in Victoria not to have a respite house for ageing parents with disabled children. The Bank was approached by parents to support the building of a respite and multi-function centre.  The Bank offers monetary support, marketing and business advice to this small and extremely dedicated group.  This is a real partnership between  Castlemaine Lions Club, State Government, Mount Alexander Council, hospitals and local agency Windarring.
New instruments for brass band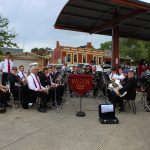 Maldon Brass Band is sounding better than ever with the acquisition of new instruments.
Two cornets were added to their collection, thanks to $2,237 from the Maldon & District Community Bank branch.
Daniel Clarke, Maldon Brass Band's Director of Music, welcomed the funding for the new instruments.
"We are committed to having every member, including our learners, playing a quality instrument.  We used the bank sponsorship to purchase two new Yamaha cornets as part of the band's instrument replacement program."
Supporting local footy / netball clubs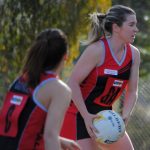 Football / netball clubs are at the heart of most country towns, and ours are no exception. Our four local clubs – Dunolly, Maldon, Newstead and Castlemaine – have benefitted from having the Maldon & District Community Bank as a major sponsor for 5 years running.
Branch Manager Adam Balzan said the bank recognises the key role sporting clubs play in the health and social fabric of small rural communities.
"We're proud of our sponsorship of local clubs in the communities we serve. It's a great community investment for our bank to make, and lots of banking business comes our way from club members and supporters – so it's a win-win."