We acknowledge the traditional owners of this land, the Dja Dja Wurrung people, and we pay our respect to the elders past, present and emerging. The Dja Dja Wurrung people have been custodians of this land for many centuries, and have performed age old ceremonies of celebration, ritual and renewal. We acknowledge their living culture and their unique role in the life of this region. We express our gratitude that we share this land together, our sorrow for some of the cost of that sharing, and our hope and belief that we can move to a place of equity, justice and partnership together.
Maldon & District
Community Bank
$3 million invested in the communities of
Maldon, Newstead, Dunolly
& the Mt. Alexander District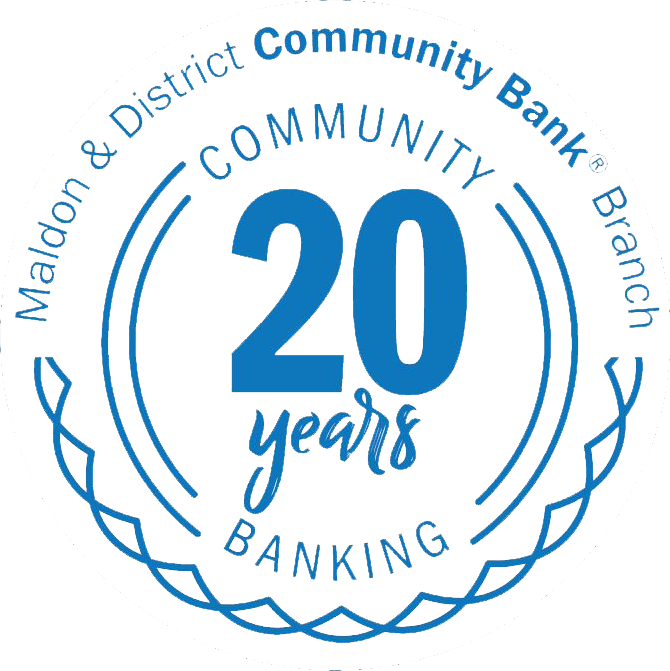 Who gets our profits?
Community groups, clubs, organisations and events
across the Maldon, Newstead, Dunolly & Mt Alexander District.
Community Stories Short Film Project
To celebrate 20 years & $3 million invested in our communities, the board commissioned a series of short films to tell the stories of the people behind some of the amazing projects happening in our communities.
You can watch all the videos on our Community Projects page.
Why Community Banking is Different
We're locally owned and operated by the community.
We return profits to make our communities more vibrant and sustainable places to live.
It's local business at its best—keeping money in local economies and employing local people.
We offer the full range of competitive banking products and services.
Community Banking
We help support and inspire our community to do great things.
Banking Products
We provide all Bendigo Bank financial products and services.
Contact our friendly and professional staff to find out more:
Drop into our branches in Maldon, Dunolly & Newstead
Ph.(03) 5475 1747
e-mail us @ maldonmailbox
Read more here
We Support Our Community
We are immensely proud to support
the following organisations and projects:
How we support the community
Community Groups Supported
Testimonials
From our happy clients.
"The Maldon & District Community Bank continues to be a wonderful institution that serves the community with professionalism, loyalty and generosity. We all have good reason to be proud of it."

Hilary

MDFSL member

"The Dunolly Gilbert & Sullivan Festival is going from strength to strength. We will always remember with gratitude the support we were given for the inaugural Festival. We were funded by a grant from the Maldon & District Community Bank. We are now self funding and able to present quality shows to the community, performed by members of the community in a self-sufficient manner. We would not have been able to do that without the support and faith you showed in us at the start. We will always be grateful for your help and everything the Community Bank does for the local community."

Rachel Buckley

Dunolly's Gilbert & Sullivan Festival

"As a small business, we've been really happy with the service at the Newstead & Maldon Community Bank branches. We changed from a Big 4 bank and the biggest difference is the service. With the local branch your issue is handled by an individual, not a call centre. The same person follows up and sees that your application or query is resolved. With our old bank you'd have to start again every time you called and it was really frustrating. I also really like the Business Easy Saver account as it lets you earn interest and make transactions in one account. This avoids the hassle of having to move money around between accounts."

Jarrod Rogers CPA

Tax Consultant