Partnerships, Scholarships & Programs​
Community Partnership Program
The Maldon & District Community Bank Branch is always looking to do great stuff with our community.
If your community group has an idea that would help the ongoing development' wellbeing and sustainability of our community' but you need funds to do it' our sponsorship program could be for you.
For further information' download the application forms below' call into the branch at 81 High Street' Maldon, contact the Executive Officer on 0478 435 110 or executiveofficer@mdcb.com.au or phone the branch on 03 5475 1747.
Download the forms here to request funding or support, or to acquit funding you have received:
Learner Driver Training Program - apply here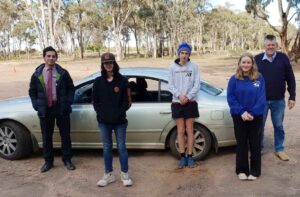 One of our most popular programs is our driver training course for learner drivers.  The participants drive in a group of three during the five-day course, with a qualified instructor, in a range of different environments and traffic conditions, including un-sealed country roads, highway and city driving, and defensive driving.
The Maldon & District Community Bank subsidises the majority of the $900 per participant program costs. There is a charge to participants of $150. Each graduate receives a reward of a $50 bank account with the Maldon & District Community Bank at the completion of their course.
The course can add up to 15 hours of supervised driving experience per participant.
Apply here for the course: Application form – Learner Driver Training Program (2020-21) MDCB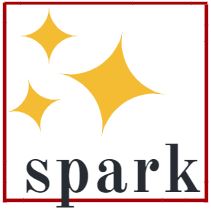 Our Spark Grants encourage and support student-led ideas and projects in local primary schools. The grant provides students with ownership of the funding, encouraging students to work together, research their ideas and decide on a project that makes a difference to their school or the wider community. It's all about empowering the students to come up with a great idea and deliver a project! The first round in 2018 funded projects at Maldon, Dunolly, Newstead and Harcourt Valley primary schools.  Maldon students created a fairy garden and held a whole of school fun day.  Newstead PS used their funding for a fete to raise money for robotics equipment. Dunolly PS installed new classrooms bins for recycling, and Harcourt Valley PS held workshops about managing anxiety. The second round of funding was distributed in June 2020.  Watch this space for the ideas each school spark up!
Applications Now Closed: 2022 TAFE & University Scholarships
Are you heading to university or TAFE in 2022, or continuing your studies?  And need extra financial support?
The Maldon & District Community Bank scholarship program is available annually, and this year with four scholarships awarded ($2,000 for each successful recipient), to support young TAFE or undergraduate university course students, agricultural students and students that identify as Aboriginal or Torres Strait Islanders.
To be eligible you must live in the catchment areas serviced by Maldon & District Community Bank, which includes Maldon, Newstead, Dunolly, Harcourt, and Mount Alexander districts, or attend a secondary school in this region.
The 2022 Community Bank scholarship program closed January 9th, 2022.
2022 Scholarship Guidelines – document link here.
University/Higher Education Application          Apprentice/Trainee Application 
Indigenous Student Application         Agricultural Studies Application
For further information on the scholarship program contact Executive Officer Shannon Burdeu on 0478 435 110 or executiveofficer@mdcb.com.au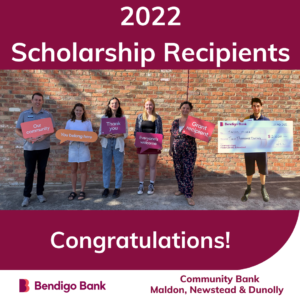 Helping your business thrive post-COVID-19
Planning for next financial year & setting yourself up for the 'new normal'
Applications WILL OPEN SOON for our 2022 business support program
This specially designed program supports local small businesses to recover, reshape and rebound after COVID-19 restrictions. The program aims to deliver:
a tailored viable business plan for your business
increased confidence
identify new opportunities, and
increase collaboration between businesses in the region.
The program is delivered by Sorted's Clare Fountain to engage, educate and support up to 16 local small businesses. Clare has over 20 years working with regional small business owners to plan for and achieve success.  She believes in the resilience of strong communities, and that building stronger businesses helps to build stronger communities.
Maldon & District Community Bank subsidises this program for 16 local businesses, with participants required to contribute $150 per business. Small businesses from across our catchment area, including the towns and districts of Maldon, Dunolly, Newstead, Harcourt and Mount Alexander region, are encouraged to apply for the program.
Key dates will be provided shortly.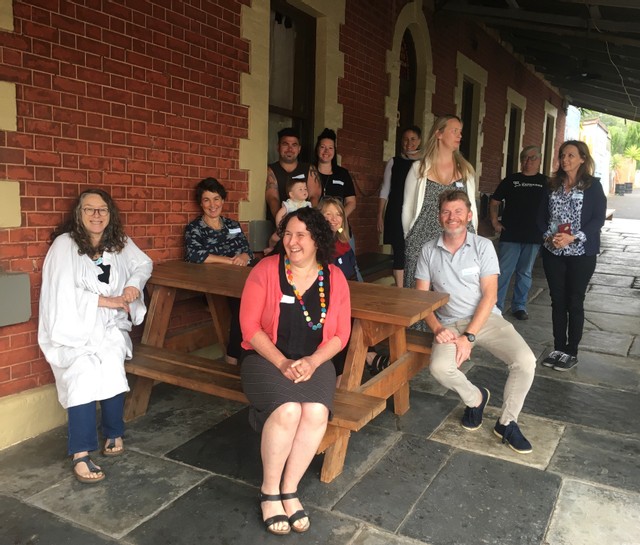 "Clare is a very engaging presenter.  Love her honesty and can-do attitude.  The sessions were also presented succinctly and the group work managed well, with not too much time spent on feedback from participants but focus on content which was great."
"The tools were very useful and once we put them into practice they will be extremely useful. It is up to us now!"
"We would highly recommend this program to any small business that aims to be successful!"
"Clear and concise communication, supplemented with notes and opportunity to ask questions."